When it comes to acquiring new packs I haven't been very active lately. Actually, I've been a downright sloth. What was the last pack I purchased… hum.. right, Golden Tarot of Visconti published by Lo Scarabeo and restored by the wonderful artist Atanas Atanasov. I like to collect different Visconti-Sforza editions, so far have around 5, I think.
Before that.. Ah! My new favourite pack: Piatnik / Pointner Tarot by Rudolph Pointner, published in 1974. Just look at that Death card:
I won this pack at the Tarot Garden Reverse Auction sale, alongside Tarocchi Romantici by Giorgio Trevisan.
The Daemon Tarot by Ariana Osborne was a fun find, a real trip down the memory lane. As a teenager I used to look at the images of the Infernal Dictionary with great delight. I found the pack at Akateeminen Bookstore in Helsinki, while browsing through with Anton Rossi who was visiting from the U.K. Anton's website is Holistic Lightworker.
During my short trip to Paris in May I met Bertrand Saint- Guillain for the first time, and enjoyed his company together with Fortune & Ulrik Buchholtz. Bertrand is a skilled artist – artisan of cards – and has a deep well of knowledge. Take a look at his website Tarot Paris. From Bertrand I bought two copies of Triomphes de Paris – small but full of Power! Some pics from the trip:
What else.. Whispers from an Inkwell (now OOP) by Patrick Valenza at Deviant Moon. I still need to get a copy of the Deviant Moon Borderless Edition, and also the latest one, Trionfi della Luna (btw that Paradoxical Edition looks fiiiiiine).
So that's the past acquisitions. Yesterday I realized that I haven't really been keeping my Recently Published Packs -list up-to-date. After browsing through U.S. Games Systems, Lo Scarabeo and a few other sites I came to order these ones:
Tony Meeuwissen: The Key to the Kingdom – An Enchanted Deck
Not Tarot, but a transformational playing card pack. I can't tell you how happy I am to finally get a personal copy of this treasure. Many of the cards show a striking similarity with tarot symbolism (coincidence or?)
Jessica Shanahan: The Tarot of the Absurd (Aeclectic review)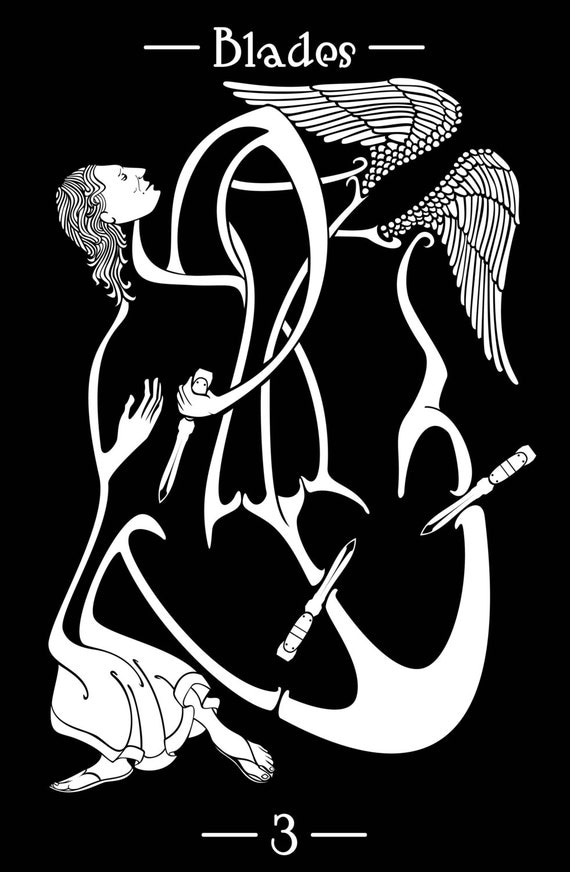 There aren't too many B&W packs around so coming across the Absurd set was really nice. I like the sharp contrast between white and black, and the powerful yet simple (said in the best possible meaning) imagery.
Bethalynne: The Isidore Tarot (Aeclectic review)
Our hero J. J. Grandville returns! My initial contact with this ingenious artist was via The Fantastic Menagerie Tarot by Baba Studio / Karen Mahony & Alex Ukolov. The accompanying book by Sophie Nussle is one of my all time favourite tarot books. The Isidore Tarot looks more toned down; colours are lighter and there's more open space in the cards (don't take this wrong – I absolutely love the Fantastic Menagerie pack). Will be interesting to do a comparison reading with both packs!
Fabio Listrani: Night Sun Tarot
I must say I'm not a big fan of Lo Scarabeo's packs, mostly to do with the 6-language card titles which I feel are completely useless. Fortunately they have been lately producing more and more packs with just one title, as is the case with the Night Sun Tarot. More room for the images, good! I still have my doubts if I'll ever start using this set for readings, we'll see. But there was something that got me curious enough to hit the order button.
Aunia Kahn & Russell J. Moon: The Lowbrow Tarot – An Artistic Collaborative Effort in Honor of Tarot (Aeclectic review)
Big yay for collaborative tarot project! Only the 22 Major Arcana cards but what a bunch. I like to use Majors only packs together with a full 78-card pack in readings. Another collaborative set comes to mind, and this time a full 78-carder: The Elora Tarot. I've become quite fond of this creature, and the clients like it a lot (not to mention it reads really well).
John Matthews & Wil Kinghan: The Sherlock Holmes Tarot (Aeclectic review)
Well, this looks like fun?! Tarot with a twist, for sure. I like non-traditional packs, as I feel we have quite enough of RWS clones on the market already. Eat your heart out, Happy Squirrel – here come the Giant Rat of Sumatra!
Nino Japaridze: Japaridze Tarot (Aeclectic review)
I wonder how long did it take for Japaridze to complete this deck. A lot of effort has clearly been put to images.  A fanfare of colours, each card is like a painting where you can dive into. I've a strong feeling this one will follow me to meet the clients.